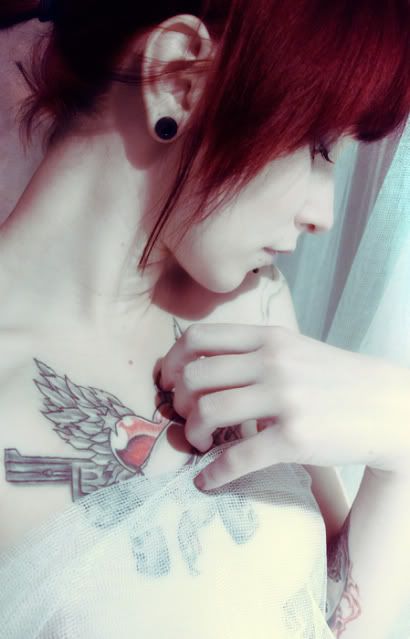 I feel so ugly lately. I have my good days, which are few and far between. But the more I look in the mirror, the more I hate how I look. I just feel out of place with everyone else. I look at my sister S., she's absolutely gorgeous, and she knows it. She's so confident. So perfect. Perfect hair, perfect body, perfect face, perfect smile, perfect everything. I keep telling her she's the one who got all the looks in the family; she just laughs. But she knows it's true. She's the one every one's after (

especially guys

). Just an example, there was this one guy I talked to a lot and really liked. One day we were talking, and he mentioned he like my sister S. That hurt. I'm tired of trying to keep up with her.
Let's start talking about the girly stuff. If there are any guys reading my blog, I'd turn back now.
There's a lot of talk to days about being fit, and what the perfect body shape is. My body is around model skinny, which goes great with my height (

yeah...right

). For awhile it hasn't really bothered me, and I'm not really interested in gaining a lot of weight. But, let's be frank, with a skinny physic I have no assets. Yes, girls, you know what I'm talking about. It's so annoying, especially when my sister makes fun of me for it: This, at least, I manage to laugh off. The jokes aren't really jokes; they speak the truth.
Let's move on to my smile. My teeth are horribly crooked: It's ridiculous. I can't tell you how many people especially little kids make comments about them. "Why don't you get braces." I've heard that so much it's not even funny. You want to give me the money for that? Go ahead, be my guest. I've pretty much stopped smiling with my teeth showing. The only time I do is if I'm far enough away from the camera, and I can look straight on.
How can you look at me when I can't stand myself?
I can't tell you how glad I am that P. has really only seen pictures so far. I'm so scared that once we're in person, he'll realize how horrifying I really am. They say you're your own toughest critic. Does it really matter what others think if you're not comfortable with yourself? I'm ready to put a paper bag over my head and call it an instant makeover.
How do you start being confident and comfortable with how you look?