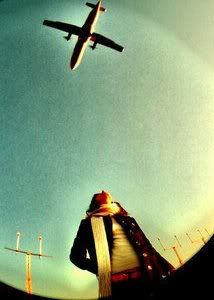 The last four days have flown by. This weekend I had my college graduation, and my boyfriend and I thought it only fitting that since he saw me graduate from high school that he see me graduate from college. So he flew out her for four short days. It also happened that he was out here over protocol (my old high school's version of a prom). The Alumni are always invited to join in the event, so my boyfriend and I decided it would be fun to go. Dinner at an amazing restaurant and a play afterwards, a good way to end his visit.
There were times that I wished I had planned more things for us to do other than my graduation and protocol (not to mention the mass amount of shopping). I'm torn between wanting to make the most of his time out here by doing a bunch of things, and just simply relaxing and enjoying each other's company. But overall both of us felt really good about how this trip went.
Now for the hard part. . .him leaving. You all might think that after awhile people in long distance relationships would just get used to always having to say good bye. Not for me and my boyfriend. Good byes are so hard for me, and I officially hate airports. We literally sit on my couch the night before or day of him leaving, and wait for me to just burst into tears because sooner or later it will happen. Once I do, he holds me close and tells me how much he loves me and that we will see each other soon. He's amazing like that and puts up with me getting mascara on his shirt.
It's not easy letting his leave. Every time I beg him to stay, even though I know he can't. I feel so complete with him, and now that he's gone life away from him seems that much more bleaker.